Don't Let This Happen To You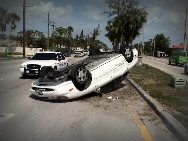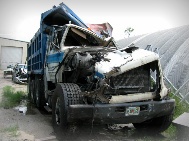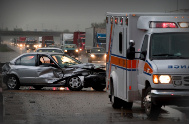 But be aware that this can happen, even if you are a great driver and you are always careful. Most importantly, our client walked away from this accident because she was wearing her seat belt.
Over the years, our firm has had the pleasure and responsibility of representing clients who have been in minor accidents or in some of the major accidents as depicted on this page. In all of these cases, our lawyers met personally with the injured victims.
We do not rely on investigators, paralegals or other people to handle your case. Rather you will meet with one of our lawyers and we promise to give you the personal attention we feel our clients deserve.
If you have been injured as the result of an accident of any type…automobile, truck, bicycle, trip and fall…we would enjoy talking to you to help you understand your rights under Florida law.
Of course, there is no charge for this initial consultation. But a couple of words of advice: If you are involved in an automobile accident, photographs help! The one at the left helped demonstrate both the force of impact and how the accident occurred. And the insurance carrier may try to take a recorded statement from you. At the very least, talk to a lawyer before agreeing to this procedure.
Remember…we are here to help you. Take a moment to check out our website and get to know us. And feel free to call or email us if you have any questions at all.
What To Do If You Are In An Accident
As disturbing and stressful as car accidents are, you will probably be in at least one car accident in your lifetime. If the accident occurred in the West Palm Beach area and someone was injured, one of the first steps you should take is to contact a West Palm Beach car accident lawyer.
Stuart A. Young, P.A.  of West Palm Beach is an auto accident lawyer who is experienced in assisting car accident victims with all of their needs, including taking car accident injury cases before a jury, if need be.
To protect yourself and your rights, here is what you should and should not do if you've been involved in a car accident with injuries in the Palm Beach County area.
Things You Should Do
Go to a doctor.
During all the medical care you receive for your injuries, keep records of dates, who you saw, what was done, what medications were prescribed, what was discussed, etc. If you don't feel well enough to maintain this information, ask a friend or family member to do it for you.
Ask your doctor and all other medical care practitioners to maintain thorough, precise records of your injuries and progress.
Select an experienced West Palm Beach personal injury attorney as soon as possible.
Your West Palm Beach, Florida, personal injury attorney also should be able to refer you to doctors and medical specialists who can treat your injuries compassionately and also understand the importance of meticulous records.
Call your West Palm Beach, Fl. auto accident lawyer after every medical appointment and tell your attorney's office what happened when you visited the doctor.
Things You Should NOT Do
Do not speak to an insurance company, except to fulfill your obligation to tell your insurance company about the accident. Otherwise, tell insurance companies that you have retained legal counsel and refer them to your car accident lawyer.
Do not give out statements to anybody.
Do not admit any type of fault in the accident to anyone.
Do not reveal the limits of your insurance coverage, including your car insurance, health insurance, homeowner's insurance, etc.
Personal Injury Attorneys in West Palm Beach
Stuart A. Young, P.A., is committed to serving car accident victims throughout the Palm Beach County area. Please call us at 1-888-540-4343 to set up a free initial consultation about your car accident. You can also contact us here.
Once you meet with us, you will be relieved to know that we can take care of the entire legal process, from filling out paperwork to speaking with insurance companies to going to trial.